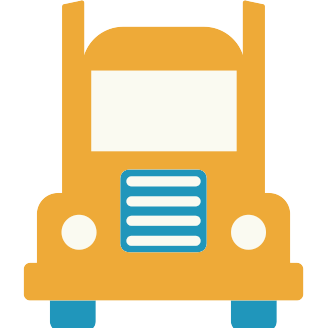 The NWMO will:
Demonstrate the potential for a socially acceptable transportation plan through dialogue on the transportation planning framework;
Continue to work with Indigenous peoples to understand how the NWMO can align our transportation planning with Indigenous Knowledge;
Continue refinement of the Used Fuel Transportation System; and
Begin implementing the transportation planning framework, which will be updated every three years.
Transportation of used nuclear fuel occurs on a daily basis worldwide. In almost 60 years, there has never been an accident resulting in human or environmental harm as a result of radioactive release.
The NWMO is developing safe, secure and socially acceptable plans for transporting used nuclear fuel from the current interim storage sites to the deep geological repository. However, we recognize the need to explain this good safety track record and answer peoples' questions about how the NWMO will uphold this standard.
In 2021, we released a Preliminary transportation plan that describes, conceptually, how the NWMO plans to safely transport used nuclear fuel to the deep geological repository, as well as the transportation planning framework, which describes peoples' values, objectives and priorities associated with the safe transportation of used nuclear fuel.
Transportation planning and evaluations will fully address regulatory requirements for safely transporting used nuclear fuel through different provinces. Site-specific technical and social engagement planning activities will continue after site selection in 2024. We plan to start transporting used fuel to the deep geological repository site in the 2040s, once the repository is operational.
In addition to the technical requirements, social considerations are important to our planning process. We understand that the transportation of used nuclear fuel is an important topic to Canadians and Indigenous peoples, and we are taking a collaborative approach that includes shared decision-making. More specifically, we have designed an iterative approach to transportation planning that will incorporate future generations' inputs into the planning process, acknowledging the importance of seven generations in Indigenous worldview.
The framework will be updated and reissued every three years. As identified above, it is our responsibility to ensure that people with a broad range of interests are included in our planning discussions and that we address their questions and concerns.
As part of the site selection process, an acceptable transportation route must have the potential to be developed. The NWMO continues to conduct technical assessments to help define potential routes.
We have heard many questions about safety over the past year and have begun several work programs to address concerns people have expressed:
Safety risk assessment looks at national and provincial accident data. The objective is to understand the causes, patterns and trends associated with conventional, dangerous goods and used fuel accident data so that we can identify ways to prevent and mitigate accidents in our current and future planning. This program will also consider safety from a social perspective;
Transportation package performance review provides insight into key aspects of the regulations governing transport of radioactive materials and how those aspects are designed to prevent radiological consequences of transport accidents; and
Emergency Response Framework outlines emergency response requirements and best practices for transportation of used nuclear fuel.
In the period from 2023 to 2027, the NWMO will also:
Continue transportation planning that is reflective of citizens' values, principles and objectives, including an emphasis on safety from a social perspective;
Undertake transportation logistics studies and risk assessments;
Seek from the Canadian Nuclear Safety Commission design approval certificates for road and rail transport packages as appropriate;
Research and establish key requirements for emergency management and transportation security for future planning purposes;
Continue to expand engagement to include municipalities and Indigenous communities along potential transportation routes, as well as interested individuals and groups; and
Brief Canada's nuclear host communities about our progress, including planning for eventual transportation of used nuclear fuel from their communities to the deep geological repository.